In recent months research into the ioni Chamber for Radon have led to unexpected results and new discoveries. Part of these discoveries are credit for experimenters, around the world, the most active is definitely Pavel Provaz, He has already experienced a great number of different configurations (and invented the new single wall version). On this page we list the results of the most recent comments.
Many people have experienced that the room, After running a long ago, suddenly loses sensitivity and, After some time, starts working fine. And have questioned whether it can depend on high-voltage variations, or other parameters.
ANSWERS
I HV nothing to do, may vary from 450 to 550 Volts without causing differences in measurements.
And even tension on the TP1 is insignificant, depends very much on the FET. Some FETS have a current (with Gate open) highest and then the TP1 salt a little. But the tension on the TP1 salt also, and very, in the presence of moist air. And under these conditions the FET amplifies less.
So these flaws are almost certainly caused by air humidity.
In recent months we have discovered that the air over the 70% RH can lead tens of pico Amps (and up to over 500 PA when you get close to 90%). We are therefore studying a room that can work even in very humid environments (Besides, no rust)
The first solution was to dehumidify the air (that you send to the Chamber through a pipe and a small fan). The dehumidifier consists of a serpentine carved on one side of a piece of aluminum from 5 x 5 cm and up 10 mm, with a Peltier cell that cools it. The coil is facing down and a cloth collects water drops and evaporates.
But the dehumidifier is not a very elegant solution and consumes a lot of power. For which we are studying some solutions for moisture and some improvements, for other aspects:
First of all a central electrode in 2 mm brass tube (that greatly improves resistance to mechanical noise)
An external wall made of stainless steel or aluminum.
New pattern of polarization of the FET Gate FET grounded through resistor from 1 Gig Ohm bearing hundreds of air leakage current picoAmpere.
New circuit amplifier (version 6).
Attempts to eliminate the double wall, loading the Central pad with 500 Volts (about) and isolating the Gate with capacitor 1000pF.
A cool new idea is to protect the ions from moisture by closing in a polyethylene bag. Polyethylene stops is the water vapor that Thoron, but lets move on Radon. The polythene bag acts as a polymer membrane (radon has first to dissolve and then spread) It must be very thin to not impairing the response.
Those wishing to do experiments, may write to Alexis, who knows where to find the components and can prepare new PCB.
---
New amplifier – Version 6
From here you can download the pattern, the PCB and the latest simulations:
http://www.theremino.com/files/IonChamberAmpV6.zip
And here you can buy cheap resistors 1 Giga:
http://www.mouser.it/ProductDetail/TE-Connectivity/RGP0207CHK1G0/?qs=%2fha2pyFaduhkrdcbzNk6CHQ1bfgoVndRtlEgfJiN2nuM8RBuTFoG3A%3d%3d
Sure that the resistor must be COMPLETELY INSIDE the inner Chamber, otherwise collects complaints and does not work anymore.
Note that if you polarize to mass the Gate tension on TP1 becomes about 0.3 Volts and will no longer be modified by moist air (before the normal voltage of TP1 had 1.1 to 1.3 Volts and saliva very, even beyond 1.5 Volts, in the presence of moisture. And when the voltage on the TP1 salt, the FET amplifies less, and there is a strong loss of sensitivity to low amplitude pulses. Why there are fewer impulses.
The latest versions also include a regulator LM385 which further reduces (In addition 30 times) the noise coming from USB. This improves the functioning on some particularly noisy PC.
The most recent research has shown that a strong air humidity, as well as conducting a stream of hundreds of picoAmpere, It also causes rapid variations of current. These changes result in a loud noise on top of the impulses (visible on TP3 with an oscilloscope). Everything is amplified by the presence of dust in the air (the powder gets wet and increases noise)
We don't know so until humidity level you can get, but we're pretty sure that, beyond the 90% of moisture, the disturbances become that breadth, that no room at ions, However that may be built, might work.
---
New high voltage power supply – Version 5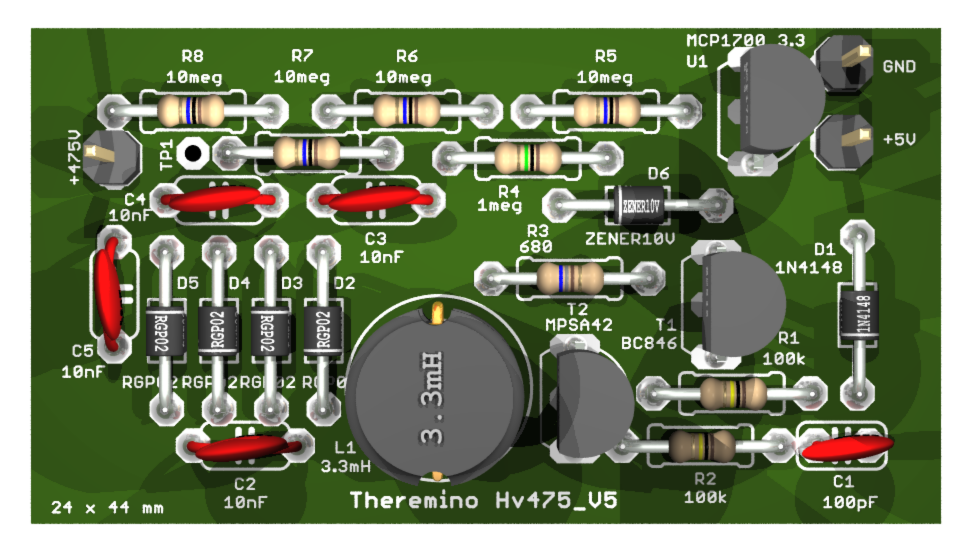 Schematic and PCB power supply dell ' version 5, with traditional components.
Schematic and PCB power supply dell ' version 5, with surface mount components.
Adding a remote controller 3.3 High voltage ' Volt will prevent l from being disturbed by noise from the USB. The baseline which is measured on the TP3 is more stable and more precise measures are then. On some PC with USB voltage very noisy this new power supply can make big difference.
With this link you can download the pattern, the PCB and simulations, both the ' amplifier power supplies, in both SMD with classic components: IonChamberCircuits
---
---
"Concentration" or "Activity", That's the problem!
Until a few months ago, we measured the "Radon concentrations", whereas now we measure in "Radon Activity". We had to adapt to this custom to give similar values to other Radon measurement devices on the market.
To calibrate the ions in "Radon Concentration" the value to set is 2.15 CPS/Bq/l. With this adjustment the values in Bq/l and Curie/l will be about five times lower.
To calibrate the ions in "Radon Activity" the value to set is 0.43 CPS/Bq/l. With this adjustment the values in Bq/l and Curie/l will be similar to those measured with other devices on the market.
In European Commission report There are excellent definitions of two units of measure.
"With "measurement of concentrations of radon" refers to the number of disintegrations of the isotope Rn-222.

The term "exposure to radon" means the exposure to radon progeny. "
Given that we convinced ourselves, If everyone uses the activity will we. We want to point out, however, that "should" measure the "Radon concentrations" and give values about five times lower, come suggerito da tutte le organizzazioni internazionali.
Documentazione che suggerisce di usare la "Concentrazione"
Sia "Word Health Organization" che la "European Union" suggeriscono di usare la "Radon concentrations"
https://www.uic.edu/sph/glakes/radon_measurement/pdfs/unit_three.pdf
http://www.atsdr.cdc.gov/PHS/PHS.asp?id=405&tid=71
The World Health Organization has recommended a radon reference concentration of 100 Bq/m3 (2.7 pCi/L).[82] The European Union recommends that action should be taken starting from concentrations of 400 Bq/m3 (11 pCi/L) for older dwellings and 200 Bq/m3 (5 pCi/L) for newer ones.[83]
http://en.wikipedia.org/wiki/Health_effects_of_radon#Radon_concentration_guidelines
Radon concentrations in the air are measured as the amount of radioactivity (Bq) in a cubic metre of air: http://www.who.int/ionizing_radiation/env/Radon_Info_sheet.pdf
The concentrazione di radon si misura in Becquerel per metro cubo (Bq/m3 ). Il valore di 400 Bq/m3 indica la disintegrazione di 400 nuclei atomici di radon al secondo in un metro cubo d'aria accompagnata dalla emissione di radiazioni ionizzanti.
Radon concentration stairs
http://en.wikipedia.org/wiki/Radon#Concentration_scale
But then why all manufacturers of similar devices use the "Radon activities"?
Probably because this causes you exceed the limits of the law and it becomes easier to propose costly remediation. This is only a supposition, but until someone suggests a better explanation…
---
An ion Chamber "embedded"
Alessio has developed an ion Chamber with all software in a PIC Microcontroller. This solution is especially economical because it does not require a PC (or tablet).
With one button you maneuver all functions. The display shows the version, currently "Radon Detector Ver. 1.0", the seconds elapsed and the concentration of Radon gas in Bequerel per cubic meter.