Applications without PC
Planning the firmware (as with Arduino), the modules of the system Theremino may also work without connecting them to a PC. More detailed information on this page.
But we do not recommend the operation without PC, in order not to lose the main characteristics of the system Theremino: the power of the PC, real-time connection between high level software and hardware of InOut and ease of use.
There are systems (Arduino and clones) designed for applications with no operating system and no PC, use those.
Repeatedly asked to implement the Arduino Sketch.
The short answer is: "There's no need for"
The long answer is here: https://www.theremino.com/blog/robotics-and-cnc#sketch

Applications "stand alone" and "real time"
For autonomous systems, such as a quadcottero or a robot, using FlatPC (see this page).
The FlatPC and Theremino system modules, While working with a real OS, they are so quick to be more "real time" a microcontroller real time (for example Arduino). Then a FlatPC and some small thereminici modules can easily control the flight and stabilization of a drone, correcting the position in real time, up to seven hundred times per second (that is more than what it takes in practice and also what can make an Arduino with its slow CPU single core).
Also a FlatPC has all basic functions already built, and of sufficient quality to satisfy even the finest ear.
Smaller and lighter, both a Raspberry than of an Arduino, the FlatPC has all of series, in a very small. So you must add external sound modules, Wifi adapters, mass storage devices, about connection cables and bulky Shield.
---
L ' following picture shows an example of what needs to be done to get quality sound from a Raspberry (example from project volumio)
And this image shows how you get quality sound from a FlatPC.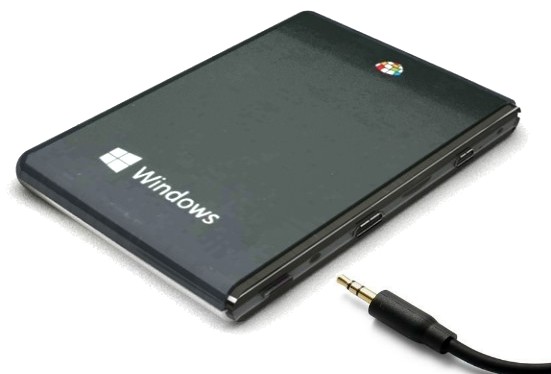 The two images have the same scale and are indicative of how quickly engage volume with stacked modules (Piggyback) and with the Shield. Here it is just dell audio ', But if you want even on Wifi, the GPS, the 3 g, the Bluetooth and the ADC to 24 bit, the castle would become a skyscraper and it would be impossible to place it in reasonable shape.
To avoid stacking of modules and facilitate the arrangement of the volumes, Theremino the system does not provide Piggyback or Shield with fixed positions, but always flexible cables.

Theremino on Rapberry Pi with Raspbian
Attention: This information is outdated. Small PC with Windows, they are always cheaper, consume less and are much more powerful, see comparisons. On FlatPC and TabletPC all our applications work with the 100% efficiency and work for (you do not need to perform complicated installations).
https://www.theremino.com/downloads/notes-on-software#flatpc
For lovers of Linux and Raspberry Pi we prepared a Debian for Raspberry, called Raspbian, is available as a complete image. So no operating system installation, slamming the memory card and via.
This Raspbian, you might call ThereRaspBian, spin Theremino system applications, but it's not easy to do that. You must manually install many Linux libraries and, Depending on the version, Some applications may work and some don't.
USB communication speed of the Raspberry is great, can easily reach 700-800 exchanges per second. The processor is unfortunately a little' slow and there are errors (not ours but of Linux-Mono) to use the numeric data processor. So applications most suited to Raspberry are loggers lenses. For example weather systems, or for earthquakes, who are content to a hundred trades per second.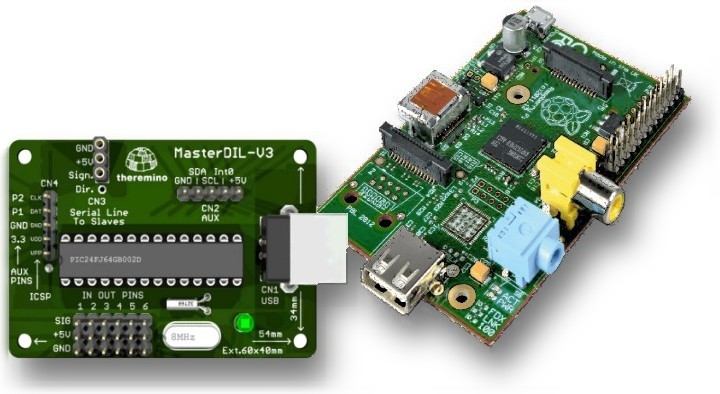 Connectors, datasheets and schematics of all models of Stalks in This file.

Consumption of Raspberry Pi
Model B
Only keyboard    0.38 A - 1.89 W Keyboard + WiFi  0.43 A - 2.14 W
Model B +
Only keyboard    0.25 A - 1.25 W Keyboard + WiFi  0.30 A - 1.50 W Only WebCam      0.30 A - 1.50 W about (changes with lighting)
Without USB/LAN    0.15 A - 0.75 

W
In shutdown

      0.05 A - 0.25 W
All models of Raspberry (A, B and B +) must be powered with voltage from 4.5 to 5.5 Volts. In case of power with solar panels, I recommend using a switching regulator, to reduce the battery voltage with maximum efficiency.
The Theremino Master and Slave modules only 12 mA. Then a Master increases consumption of Stems of less than 5%. If you link to the Stalks only the Wifi card and the Master, it consumes around 1 Watts, so in total less than 100 but with a 12 Volts.

Overclock your Raspberry Pi
The Stalks to 700 MHz is pretty slow, but with 950 MHz is much better. Overclocking is done with "RaspiConfig".
Up to 950 MHz to overclock the SD Card works in 250 MHz, so just a "SD Card class 4". If you set the maximum overclock (1 GHz), then travels to the SD Card 500 MHz, and need a "Kingston SD Card class 10".
With overclocking the average consumption doesn't change much, you climb from ordinary 300-350 but up to a maximum of approximately 350-400 mA. Even with the maximum overclock, enough small coolers keep the chips under the 85 degrees, temperature above which the chips are slowing down automatically. A fan is not required, and it is better not to use it to avoid noise and dust.
For proper operation the temperature must not exceed 70 degrees and the supply voltage must not drop below the 4.8 Volts. There are simple instructions in Python to read temperature and voltage, It would therefore be useful to write a small utility. This utility should store the peak values, but show them on screen only once per second, to consume little CPU.