Comments and ideas for the measurement of Radon and radiation

Two SBM-20 in parallel and a GeigerAdapter form a simple probe, very sensitive and inexpensive.
This image shows a measure of environmental fund with Theremino_geiger
More information
– Software download: www.theremino.com/downloads/radioactivity
– Electrical schematics and Assembly plans: www.theremino.com/technical/schematics
– Hardware, DIY and kits: www.theremino.com/contacts/producers
– Images and videos: www.theremino.com/video-and-images
– Article about Open Source Electronics: it.emcelettronica.com/geiger-from-lab-sensitive-and-least-expensive
In the documentation folder (accessible from the Help menu) you will find all the information you need to use the program and probes.
The HAL program, required to connect to the Master, you download from here: www.theremino.com/downloads/foundations

Measure with Geiger
This image shows a measure of environmental fund 15 minutes, followed by the provision of a sample of dietary salt. At the beginning of each measure was pressed "Start"
Precision measurements you make with long integration time. While precision measurements you do not have to change the conditions of measurement. Move the samples during the measurement would be like taking a fever without taking the thermometer in the same spot for the three minutes required.
All ' start of the measurement You should press the button "Start new measure" that is how "Reset the thermometer" Before measuring a fever. Without this initial zero setting it is likely that the fever has not indicated its, but someone else.
—————
To make precise measurements You must respect the agreements with the program, the instructions are explained, in detail, the procedures to be followed.
To make quick measurements, just set the "usual" 2 or 3 minutes of integration, using all portable geiger..
—————–
Some users would like to avoid having to follow the measurement protocol. In essence they would like a button "Start" you press alone, any significant variation of the radioactivity.
Early versions of Geiger had this option, but we found that this made the measurements unreliable and bore, in some cases, completely wrong measures, without being able to inform the user ' and without any possibility of control by software. These errors were not due to an inaccurate implementation of ' algorithm, but are inherent in the measurement method and any appliance that is automatically reset can avoid them.
As far as l ' algorithm is sophisticated and set the trigger thresholds, There are always a few sequences of changes that lead to a zero delayed, resulting in pollution of the first part of the buffer of integration, or to a non-zero or, even worse, to reset drivers, they do lose hours of data.
To miss any appliance that resets by itself, proceed as per the following example:
1) Let it settle to the bottom
2) Bring a sample very radioactive 20 cm so that it resets and empty the buffer
3) Continue moving the sample up to contact, but very slowly, so as not to over take the reset threshold.
The first part of the buffer will be filled with samples too low, the threshold it clicks more and the measure will continue to be systematically flawed, How long you have the patience to wait.
This example sequence is extreme, but there are many real opportunities to attract more or less large errors, If you allow ' user to move samples at any time, or add and remove fragments in a sample already to an extent.
The devices designed for measuring "on the field", where it is important to react quickly, are not suited to precision measurements and can, in many situations, provide incorrect measurements.

Measure with the ion Chamber
Ion Chamber documentation files do not show enough that, in some cases, the pulse rate can be very low.
In environments with little radon (d ' summer with wind and opened Windows) Radon concentrations may fall under the 0.1 PCI/l (4 Bq/m3). In these cases, you get even less than one pulse every 5 minutes. It can also happen to not measure no pulse for ten or fifteen minutes. The randomness then back to place the media, concentrating many impulses in 10 minutes after. The next image shows this behavior.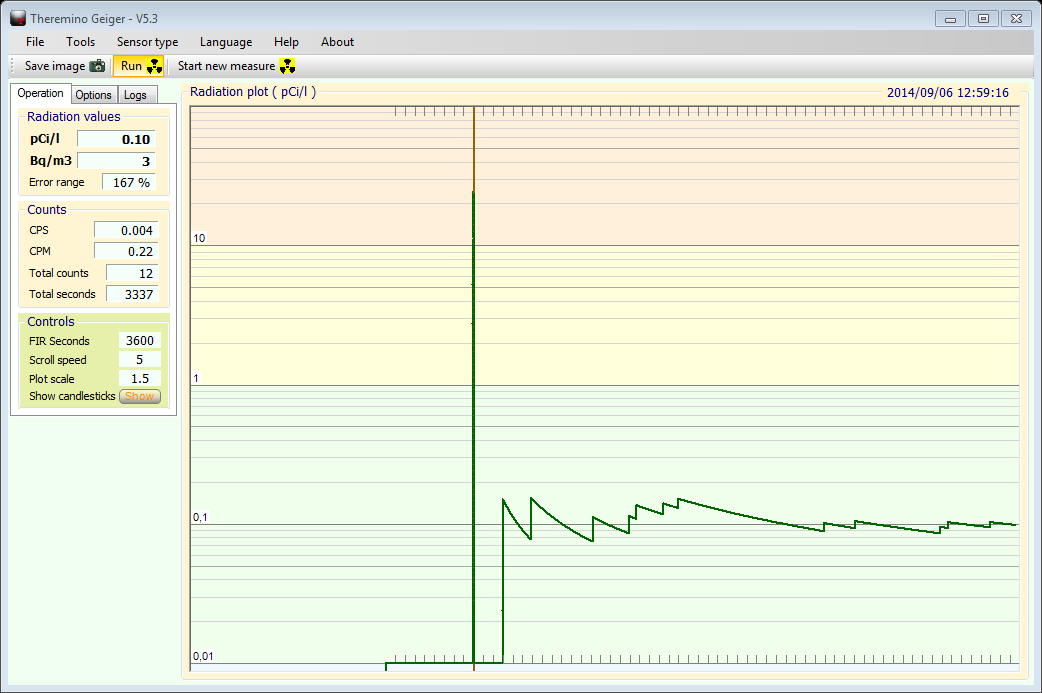 In this picture have gone well 9 minutes, before receiving the first impulse. In the central zone is also a period of 15 consecutive minutes without pulses.
That is why we designed a very large room (from 1 liter). With many commercial appliances impulses would also 100 times less frequent. For example a "Safety Syren Pro3" (a few cubic centimetres), would produce on average, Pulse every 7 hours and could spend long periods, even more than a day, no pulse.
Test of Thoron
If you live in an environment with little radon, the low frequency of impulses might suggest a malfunction of the room. Fortunately there is a Thoron, a similar Radon gas, but much more convenient for testing. More information about the test of Thoron, on pages 21 and 22 of the document "Radon_IonChamberElectronics", download from here: /hardware/inputs/radioactivity-sensors
In the first part of this picture you see the Environment Fund. In the second part the mantle containing Thorium was positioned in the saucer, and been pressed Start. In the third part, the Start button was pressed again and in a few minutes the measurement has stabilised at about 5 PCI/l. In just over half an hour ' l ' error fell to 10%.
The gas mantles containing thorium are not all the same and the room may not fill completely due to leakage between the saucer and the room. Then the measured value may be different, Come on 5 PCI/l of this picture.
If you measure from 2 PCI/l to 10 PCI/l the test passed, Otherwise please email us.
In this picture the mantle with thorium and saucer were removed. L ' indoor air was grossly cleaned up, waving a cardboard for a few seconds. Then the Chamber was lying horizontally, so leave the holes open to both terminals and pressed the Start button. In just over half an ' now the room is completely cleaned up and returned to 0.1 PCI/l.
The ion Chamber should always be handled with delicacy. The bursts of pulses that are produced when the room is shaken, mild vibrations are produced by central wire and do not indicate a malfunction. Even dust bunnies can cause bursts of pulses, You may need to add dust filters. Read pages 25 and 26 of the document "Radon_IonChamberElectronics", download from here: /hardware/inputs/radioactivity-sensors