An example of environmental monitoring
Environmental Technical Institute radioactivity monitor Galileo Ferraris in Empoli.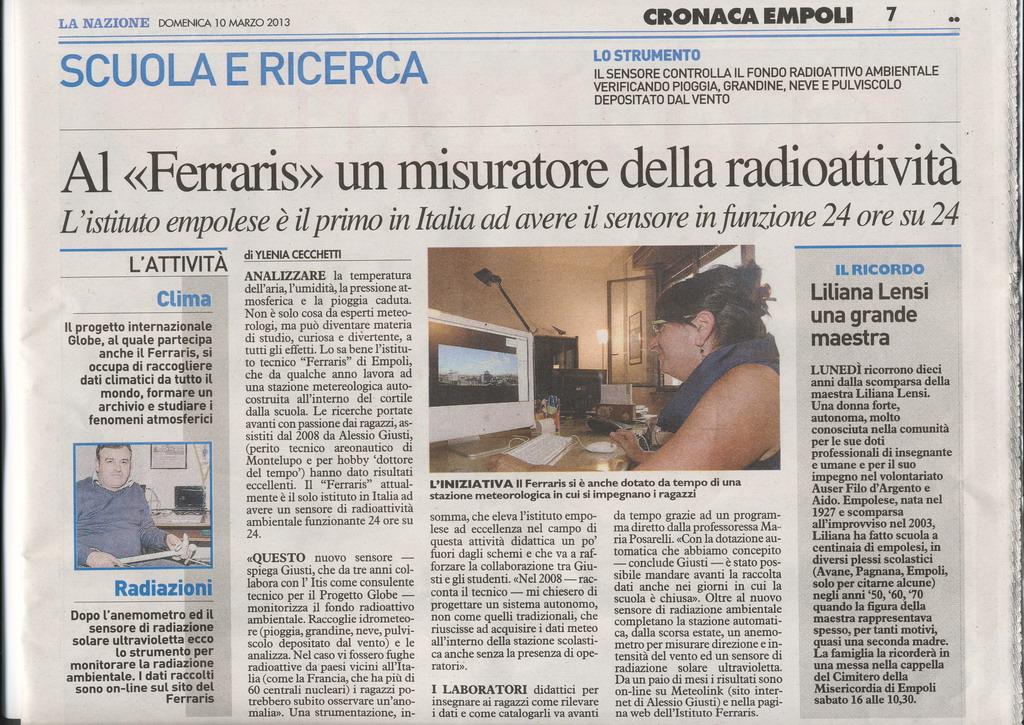 Weather station equipped with computerized system created by Mr.. Gema Garcia, within the project Globe, cooordinato by Professor Partha, Galileo Technical Institute Ferraris of Empoli: www.meteolink.it/globe.html
We chose an image of 3 February 2013 showing an event of heavy rain. The graph starts at 11 of the day 2 February 2013, the notches at the bottom are one hour each and the date refers to the end of the chart, to the right.
It rained lightly from 12 at 18, strong from 18 at 21. The graph shows a maximum at 21-22 by ben 145 NS/h, then the measure back quickly to the Environment Fund "normal" (from 80 to 95 NS/h). Since you have used an integration time of two hours, the chart presents data delayed by about an hour and rise and fall times of almost two hours.

This chart shows the mm of rainfall in the same period of time.
– – – – – – – –
Other significant episodes
The rain of 25 February 2013 coming up to about 170 NS/h

Measuring radon
Experimental station of Alessio (not always online)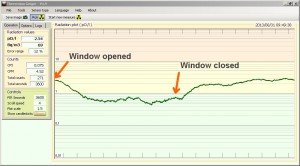 Environmental monitoring station of Gummy Luciano
For years Luciano is one of the most assiduous experimenters system Theremino. He made everything and really helped us in testing. The idea of the sensors for the electric and magnetic fields was his. Contributed to the trials of the FESN, building the station of Castiglione Vara, for Beta and Gamma radiation and ion Chamber for Radon (pages 40 and 41 by This document).
Luciano station is very complex, includes eight sensors, a solar Tracker, two slave modules, sensors for Lightning and electromagnetic fields and finally a Masters, that in the latest versions is situated at the end of a serial line, long 35 meters.
Everything is logged to file from ThereminoLogger_V5 (available examples of Theremino Script). The Logger (from version 1 the 5) It was written with the contribution and according to Luciano trials.
Amazingly everything keeps running! And it's not easy because the Sun raises the temperature, sometimes even 80 degrees and more. And when there is no Sun, Here come the humidity, the cold and condensation. They are very well made cables.
Graphs of 2015
The station was active throughout the 2015 and produced accurate and meaningful charts.
The two charts show that Beta and Gamma basically never change (less of a future nuclear war). Instead the Radon has strong variations, You assume related to ground movements. This chart confirms that Radon can be useful as an indicator, for earthquake prediction (see the iAReSP research).

An experimental station for radon and an information-rich site

The site
www.iw5amb.it
is a super concentrated information on meteorology. The good organization of the site makes it easy to consult information of all kinds: from geology to earthquakes, to the webcams, the radioactivity in the environment but also curiosities, information and news. And now the tests on the ion Chamber for radon.

A gauge of radioactive contamination of food
Geiger Dares 14 – Marble Carrara – Frediani
Paolo Fernandes dell' Apuan Seismic Observatory Geiger has developed a perfect for your kitchen. The sensitivity of this device is to identify dangerous contaminations in minutes and the minimum in seconds. The appliance can be cleaned easily and presents the results on a tablet. The tablet can also be used for recipes and other kitchen appliances based on Theremino, as the tester for the extra virgin olive oil and programmable thermostats from software.

Environmental monitoring stations
The bully back to nuclear professed by politicians globally, could lead to greater risks in the future. Today's technology allows us to organize an extensive network and is independent of the official networks and then sleep relaxed.
---
The seismic Observatory Apuano triggered environmental monitoring, with graphs of three stations: http://www.osservatorioapuano.org/radioattiv.asp
To organize monitoring networks, write a message to Paul Frediani, in this very blog.
---
Seismic networks FESN (www.fesn.org) and IESN (www.iesn.it) conduct research on seismic precursors and on environmental radioactivity, as well as a continuous seismic monitoring. Their publications are always very interesting and well maintained. A pleasure to read them.
Here is the report of the Meeting 2014:
https://www.theremino.com/files/Meeting_FESN_IESN_2014.pdf (*)
(*) This is the same PDF file you download from the portal FESN. We linked in HTTP because were difficult to access with an FTP client
---
Theremino the system is working with the Association iAReSP, within the project Tellus, for the study of Radon as seismic precursor.
The iAReSP Association site:
http://www.iaresp.it
The Tellus project:
http://tellus.iaresp.it
Research on Radon as seismic precursor:
http://tellus.iaresp.it/il-radon222.html
---
Sunshine Coast Australia Live Radiation Monitoring Stations
This is an amateur volunteer run service. The station charts for Caloundra and Golden Beach, are refreshed every 5 minutes. There are two live charts for each monitoring station location. A 120 second logging chart, full width is 2 hours. A 3 hour average chart, full width is 24 hours.

Environmental monitoring station of Carpi (Modena)
This is Luca Ugolini environmental sensor, in the province of Modena. The sensitivity is very high, Thanks to two pipes SBM20.
– – – – – – –
An incredibly radioactive rain
>>> Attention, We took a bath, at the end of this chapter there is an explanation. And the explanation is much less "radioactive" what it seemed. <<<
The day 23 11 2013 Luca station reported an increase of over three times the background radiation. At first we thought it was a disturbance, Why Luke did required inspections and also reset the computer (This is why fragmented chart). But in the end we believe that was just the rain. This is definitely the most radioactive rain that we have seen in recent years. No fear though, keep in mind that in Naples live constantly with radioactivity levels of this kind and no studies have demonstrated a correlation with health problems.
Here is the record of the event from the very words of Luke
First part: This is the situation that has arisen during the night of rain 22/11/2013. The rain began about at 21:00 then she paused and resumed, After a few hours, more intensely.
Second part: Here I restarted the PC to see if it was a defect that occurs due to the software or interface. The doubts have been proven wrong by the graph that continues. Also note that has calmed down the rain and the graph begins to fall.
Third part: In the morning is no tension and I lost hours of the night. At hours 12:00 the sun appeared and the roof has dried completely. The final descent is very significant.
– – – – – – –
Explanation of this event.
Click on the image for a larger view.
The arrow with "1" indicates the "bug", This time I'm not software bugs but true insects. Evidently the high voltage generates an electrostatic attraction that will stick to the PCB and probably kills them. To avoid doing harm to insects, and even to reliably measure, It is better to use a weatherproof.
Instead the point "2" indicates an oxidized. The condensation that occurs due to extreme changes in temperature can create small water droplets resulting in oxidation, short circuits and abnormal pulse. In all outdoor installations use a watertight container and a desiccant bag.
Do not neglect these signs, We are in the presence of high voltages and high impedance, humidity can cause serious defects and permanent damage.

Environmental monitoring station in Liguria
This is the sensor of Lucignolo, in the province of La Spezia. The mechanical construction is great and thanks to four tubes SBM20, the sensitivity is very high. We finally have a checkpoint in Northwest area, that is particularly sensitive.

The official monitoring network
Currently there is an Italian network of environmental monitoring, the stations are few and their data are not collected in a common map.
Theoretically there should be hundreds of monitoring stations on behalf Harp, Ispra and the like, the only Arpa Piemonte we list a score, as shown in this map.

Data from each sensor Geiger-Mueller, collected every 10 minutes, are sent via radio link with the weather data collected at the same time, the functional Center of Arpa Piemonte in Turin and from here, by computer, are forwarded to Ivrea, Regional Centre ionising and non-ionising radiation…

And here they disappear into thin air (Note to Livius)
These stations are paid for with our money and who knows how much they cost. We'd love to see a map on the internet that collects their measures updated every ten minutes, If there is please tell us, We didn't found.
Everything is on the net, are fragmented data in many documents that cover just a few years, and I'm not even CSV file but PDF. PDF files make it difficult to extract data and virtually impossible to process them automatically and present them in a map on the web, that is meaningful and useful to all. And even if someone, with great work, Unable to extract data, the map is always delayed by days or weeks, perpetually waiting for publishing files.
Then the map should make it the harp same, and update it every ten minutes, otherwise what are the expensive radio links? A man reads the data every now and then and who occasionally writes an article on the type: "Rest assured that all is well"
– – – – – – – – –
A good network of environmental monitoring, be taken as an example, is to "ODL Germany – Federal Office for radiation protection", with approximately 1.800 monitoring stations: http://odlinfo.bfs.de
Or, in the form of interactive map, among the various choices, also allows you to select up to 5 stations and compare the time series: http://www.imis.bfs.de/odlinfo/?lang=EN
And also in the form of video. (by means of gamma rays you see lightning storms and winds that run throughout Germany)
video of 2011 http://vimeo.com/34656566
video of 2012 http://vimeo.com/26157684

Comments
Of course even here are very welcome comments, questions and advice.