——
---
New version 7 – Year 2021
This version contains all the experience accumulated in almost ten years of experiments.
In this chapter you will find all the necessary documentation, consult previous versions only if you are interested in the history of this project.
Construction is greatly simplified, all the electronics are located on the same side of the chamber (without the shielded cables we used to go to the amplifier on the opposite end).
PCB modules have become so small and light that you can secure them with rigid tinned copper wires (blues in this image), welded to the tin plate surface (or on the surface coated with copper tape in the professional versions of the chamber).
In addition (but we will see it better later), covering the FET with a rectangular screen and the hole with a fine brass mesh, it is possible to make the open chamber work, with fully accessible electronics, as seen in this image. And this is a great convenience when measuring components before closing the chamber.
The improvements are substantial!
Great stability of the parameters, even with strong temperature variations.
Significantly improved measurement accuracy.
Less background noise and less sensitivity to disturbances.
Ease of construction.
Simplified wiring of connections.
Easy replacement of modules.
Possibility of making measurements on components even with the chamber open.
---
DOWNLOADS – V7
All documentation in PDF format:
Radon_IonChamberV7_Construction_ENG.pdf
Radon_IonChamberV7_Electronics_ENG.pdf
IonChamberV7 / Radon_IonChamber_ENG.pdf
IonChamberV7/Radon_Info_ENG.pdf
Radon_IonChamberV7_Construction_ITA.pdf
Radon_IonChamberV7_Electronics_ITA.pdf
IonChamberV7 / Radon_IonChamber_ITA.pdf
IonChamberV7/Radon_Info_ITA.pdf
Radon_IonChamberV7_Construction_DEU.pdf
Radon_IonChamberV7_Electronics_DEU.pdf
IonChamberV7/Radon_IonChamber_DEU.pdf
IonChamberV7/Radon_Info_DEU.pdf Thanks to Heiner Gerling for the German translations.
Radon_IonChamberV7_Construction_FR.pdf
Radon_IonChamberV7_Electronics_FR.pdf
IonChamberV7/Radon_IonChamber_FR.pdf We thank Jacques PAGES for the French translations.
IonChamberV7 / Radon_IonChamber_ESP.pdf
All original files in ODT format (OpenOffice), for translators:
https://www.theremino.com/files/IonChamberV7/IonChamberV7_OdtDocs.zip
The schemes, the most recent PCBs and simulations:
HTTPS://www.theremino.com/files/IonChamberV7.zip
– – –
The components are all readily available and inexpensive,
the only doubt could be given by the resistors from 1 Giga,
you can find them at a good price following this link.
The Theremino Geiger application can be downloaded from This page.
Information about previous versions and some old images in This page.
If you can't find the components or build the printed circuit boards
ask them to Lello ( maxtheremino on eBay )
or write to him at: ufficiotecnico@spray3D.it
– – –
You now have everything you need.
This is where the previous versions begin,
consult them only if you are interested in the history of this project.
——
---
Premises for the version 6 – Year 2016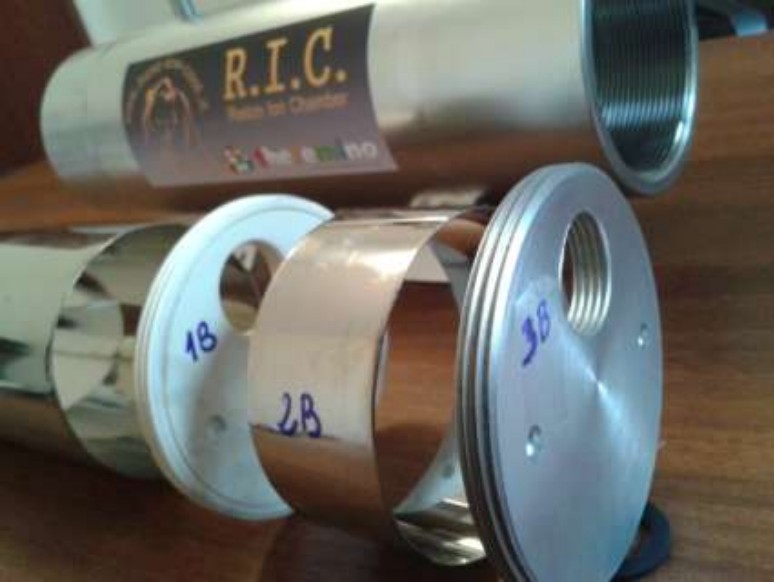 In recent months research into the ioni Chamber for Radon have led to unexpected results and new discoveries. Part of these discoveries are credit for experimenters, around the world, the most active is definitely Pavel Provaz, He has already experienced a great number of different configurations (and invented the new single wall version). On this page we list the results of the most recent comments.
Many people have experienced that the room, After running a long ago, suddenly loses sensitivity and, After some time, starts working fine. And have questioned whether it can depend on high-voltage variations, or other parameters.
ANSWERS
I HV nothing to do, may vary from 450 to 550 Volts without causing differences in measurements.
And even tension on the TP1 is insignificant, depends very much on the FET. Some FETS have a current (with Gate open) highest and then the TP1 salt a little. But the tension on the TP1 salt also, and very, in the presence of moist air. And under these conditions the FET amplifies less.
So these flaws are almost certainly caused by air humidity.
In recent months we have discovered that the air over the 70% RH can lead tens of pico Amps (and up to over 500 PA when you get close to 90%). We are therefore studying a room that can work even in very humid environments (Besides, no rust)
The first solution was to dehumidify the air (that you send to the Chamber through a pipe and a small fan). The dehumidifier consists of a serpentine carved on one side of a piece of aluminum from 5 x 5 cm and up 10 mm, with a Peltier cell that cools it. The coil is facing down and a cloth collects water drops and evaporates.
But the dehumidifier is not a very elegant solution and consumes a lot of power. For which we are studying some solutions for moisture and some improvements, for other aspects:
First of all a central electrode in 2 mm brass tube (that greatly improves resistance to mechanical noise)
An external wall made of stainless steel or aluminum.
New pattern of polarization of the FET Gate FET grounded through resistor from 1 Gig Ohm bearing hundreds of air leakage current picoAmpere.
New circuit amplifier (version 6).
Attempts to eliminate the double wall, loading the Central pad with 500 Volts (about) and isolating the Gate with capacitor 1000pF.
A cool new idea is to protect the ions from moisture by closing in a polyethylene bag. Polyethylene stops is the water vapor that Thoron, but lets move on Radon. The polythene bag acts as a polymer membrane (radon has first to dissolve and then spread) It must be very thin to not impairing the response.
Those wishing to do experiments, may write to Alexis, who knows where to find the components and can prepare new PCB.
---
New amplifier – Version 6 – Year 2016
From here you can download the pattern, the PCB and the latest simulations:
https://www.theremino.com/files/IonChamberAmpV6.zip
And here you can buy cheap resistors 1 Giga:
http://www.mouser.it/ProductDetail/TE-Connectivity/RGP0207CHK1G0/?qs=%2fha2pyFaduhkrdcbzNk6CHQ1bfgoVndRtlEgfJiN2nuM8RBuTFoG3A%3d%3d
Sure that the resistor must be COMPLETELY INSIDE the inner Chamber, otherwise collects complaints and does not work anymore.
Note that if you polarize to mass the Gate tension on TP1 becomes about 0.3 Volts and will no longer be modified by moist air (before the normal voltage of TP1 had 1.1 to 1.3 Volts and saliva very, even beyond 1.5 Volts, in the presence of moisture. And when the voltage on the TP1 salt, the FET amplifies less, and there is a strong loss of sensitivity to low amplitude pulses. Why there are fewer impulses.
The latest versions also include a regulator LM385 which further reduces (In addition 30 times) the noise coming from USB. This improves the functioning on some particularly noisy PC.
The most recent research has shown that a strong air humidity, as well as conducting a stream of hundreds of picoAmpere, It also causes rapid variations of current. These changes result in a loud noise on top of the impulses (visible on TP3 with an oscilloscope). Everything is amplified by the presence of dust in the air (the powder gets wet and increases noise)
We don't know so until humidity level you can get, but we're pretty sure that, beyond the 90% of moisture, the disturbances become that breadth, that no room at ions, However that may be built, might work.
---
New high voltage power supply – Version 5 – Year 2015
Schematic and PCB power supply dell ' version 5, with traditional components.
Schematic and PCB power supply dell ' version 5, with surface mount components.
Adding a remote controller 3.3 High voltage ' Volt will prevent l from being disturbed by noise from the USB. The baseline which is measured on the TP3 is more stable and more precise measures are then. On some PC with USB voltage very noisy this new power supply can make big difference.
With this link you can download the pattern, the PCB and simulations, both the ' amplifier power supplies, in both SMD with classic components: IonChamberCircuits
---
---
Significant improvement in stability
In the last year (2017-2018), Some rooms have given ion problems. Suddenly began to generate an exaggerated number of pulses. In other cases the impulses they didn't seem caused by an effective Radon concentrations. These episodes appeared correlated with temperature changes.
Electrical tests showed no abnormality, so for a long time we have blamed mechanical causes and dust particles. Unfortunately the rooms that were flaws stopped them just changing something. It was enough to open them, move the wires and connect them to the oscilloscope and magically they correct alone.
At last (15 July 2018), one room has started "do the fool" while the oscilloscope was connected. And fortunately the signal on TP3 showed an anomaly. A swing at very low frequencies.
The frequency of this oscillation changed continuously, If saliva its amplitude decreased, If he descended the amplitude increased. Going down under 50 Hz amplitude increased until the shooting line, and so was likely to trigger false counts, as seen in the next picture.
Further tests have shown a high frequency autooscillazione, the output of the integrated high voltage stabilizer U1 feeder. And an oscillation frequency dependent minor variations of the external capacity (move threads or open or lids), or temperature fluctuations.
At times the frequency of autooscillazione, approaching to the oscillation frequency of the transistor T2 (both about 10 KHz), generates a low frequency beat (sotto i 100 Hz).
The very low frequencies, not being sorted effectively by capacitors C3, C4 and C5, caused a continuous swing of tension on the verge TP3. This product could reach even higher voltages than a volt and began to produce spurious pulses.
Once you understand the problem the cure was simple. Delete the autooscillazione increasing the two capacitors (C6 and C7) up to 10 uF. The datasheet of the MCP1700 regulator recommends the value of 10 UF to avoid self oscillate, but this information was unfortunately little evident and is "escape".
To further enhance stability, It also adds a capacitor by 220 uF (electrolytic from at least 10 volts) connector that brings 5 input volts to the room.
The image below shows that with these changes the voltage at the TP3 is stable, no more traces of ripple. The signal is consistently well away from the operating point (almost one volt), so the risk of abnormal impulses is completely eliminated.
In this picture you see even a slight undulation, that was caused by too close to the center electrode fan. Removing the fan than two centimeters this noise is eliminated. In the next image we can be seen that the only remaining noise is random noise caused by the ionization of the air.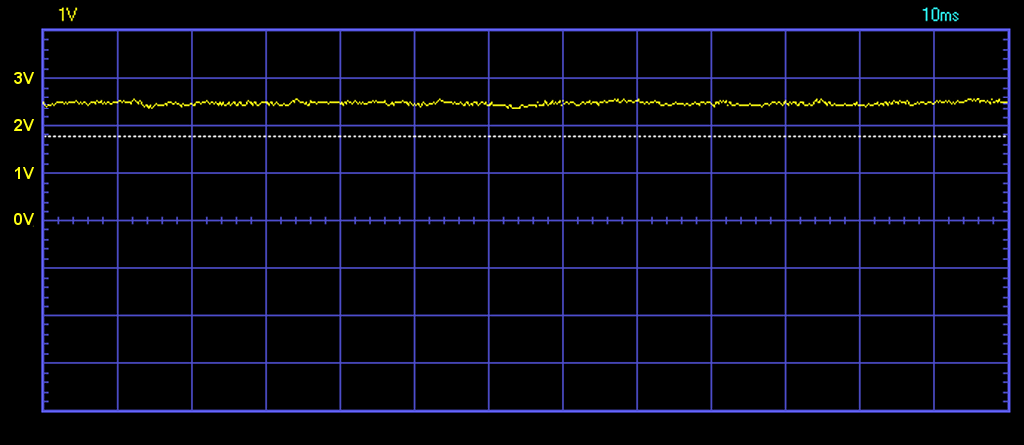 In the two images below you can see an enlargement of the disturbance caused by the fan.
In the first picture, the fan was positioned close to the inner Chamber, the second was dismissed by 20 mm.
The disturbance caused by the fan is recognizable because it is a square wave with a frequency of approximately 500..1000 Hz. Instead, the high frequency ripple (about 10 KHz) It is the residue of the high voltage supply commutations.
These residual noise (even that caused by the fan), they really are minimal and cannot create problems. But it's good to know they recognize and control not exceeding 100 MV peak to peak.
Fixes compared to previous projects
Now the tension on the TP3 is more stable than it has ever been, that would be good to correct all rooms built above, with two ceramic capacitors 10 UF and electrolytic 220 uF.
Also last year, a room was damaged by lightning (He had a long connection cable between the Master and the room). So to avoid this risk, It would be good to add two zener diodes, one between GND and + 5V, and the other between GND and the signal. These zener must be from approximately 6 or 7 volts (for example, 1N4735 or 1N4736), and must have the anode (the side without clamp) connected to GND. It would be good to add the zener on both connectors, two on the ion Chamber connector, and two out of the box that contains the Master.
And finally, to mitigate transient disturbances caused by the ignition of heavy loads, you could add a ceramic disc capacitor 100 nF, on the connector, right at the entrance of the room.
How to make corrections
In the next image you can see the components soldered directly onto the connector.
This is a robust and efficient example (They delete own entrance disorders). But it takes skill with a soldering iron. So in some cases it might be better to adopt different provisions, or even a piece of PCB or veroboard.
---
---
"Concentration" or "Activity", That's the problem!
Until a few months ago, we measured the "Radon concentrations", whereas now we measure in "Radon Activity". We had to adapt to this custom to give similar values to other Radon measurement devices on the market.
To calibrate the ions in "Radon Concentration" the value to set is 2.15 CPS/Bq/l. With this adjustment the values in Bq/l and Curie/l will be about five times lower.
To calibrate the ions in "Radon Activity" the value to set is 0.43 CPS/Bq/l. With this adjustment the values in Bq/l and Curie/l will be similar to those measured with other devices on the market.
In European Commission report There are excellent definitions of two units of measure.
"With "measurement of concentrations of radon" refers to the number of disintegrations of the isotope Rn-222.

The term "exposure to radon" means the exposure to radon progeny. "
Given that we convinced ourselves, If everyone uses the activity will we. We want to point out, however, that "should" measure the "Radon concentrations" and give values about five times lower, come suggerito da tutte le organizzazioni internazionali.
Documentazione che suggerisce di usare la "Concentrazione"
Sia "Word Health Organization" che la "European Union" suggeriscono di usare la "Radon concentrations"
https://www.uic.edu/sph/glakes/radon_measurement/pdfs/unit_three.pdf
http://www.atsdr.cdc.gov/PHS/PHS.asp?id=405&tid=71
The World Health Organization has recommended a radon reference concentration of 100 Bq/m3 (2.7 pCi/L).[82] The European Union recommends that action should be taken starting from concentrations of 400 Bq/m3 (11 pCi/L) for older dwellings and 200 Bq/m3 (5 pCi/L) for newer ones.[83]
http://en.wikipedia.org/wiki/Health_effects_of_radon#Radon_concentration_guidelines
Radon concentrations in the air are measured as the amount of radioactivity (Bq) in a cubic metre of air: http://www.who.int/ionizing_radiation/env/Radon_Info_sheet.pdf
The concentrazione di radon si misura in Becquerel per metro cubo (Bq/m3 ). Il valore di 400 Bq/m3 indica la disintegrazione di 400 nuclei atomici di radon al secondo in un metro cubo d'aria accompagnata dalla emissione di radiazioni ionizzanti.
Radon concentration stairs
http://en.wikipedia.org/wiki/Radon#Concentration_scale
But then why all manufacturers of similar devices use the "Radon activities"?
Probably because this causes you exceed the limits of the law and it becomes easier to propose costly remediation. This is only a supposition, but until someone suggests a better explanation…
---
An ion Chamber "embedded"
Alessio has developed an ion Chamber with all software in a PIC Microcontroller. This solution is especially economical because it does not require a PC (or tablet).
With one button you maneuver all functions. The display shows the version, currently "Radon Detector Ver. 1.0", the seconds elapsed and the concentration of Radon gas in Bequerel per cubic meter.